This event has taken place
Congratulations to everyone who took part. We're waiting on information about the next edition of this event.
Did you race? Let the community know how you got on and leave a review.
Add a review
Trail run Himalaya | Nepal Trail Explorer
Organiser's Description
--- This event has been cancelled due to ongoing concerns regarding Coronavirus. The race organiser will be in touch with you in due course if you have made a booking for this event. ---

Join us on an outstanding trail running journey as we venture into the Himalayas in search of some of the best views of Mount Everest.

Considered as one of the most beautiful off-the-beaten routes in the Himalayas, we take advantage of running on a lower-altitude trail which allows us to travel more comfortably without feeling the effects of rising altitude.

Our trail run travels through lush forests, ancient Sherpa villages and, meadows, with the crux of the adventure being the summit of Pikey Peak (4,065m) as we watch the sunrise over Mount Everest and other mountain wonders.

Book now with a £250 deposit, balance of £1600 due 12 weeks before departure. Total cost is £1,850.

Add to that beautiful boutique accommodation in Kathmandu, cosy tea houses, delicious Nepali cuisine and some of the best scenery found else on the planet and we think we have found a trail running trip that will knock your socks off.
Races
Deposit for One Person

Final Balance of £1445 Due 12 Weeks Before Departure

£250.00

CLOSED
Deposit for One Person

Final Balance of £1445 Due 12 Weeks Before Departure

£250.00

CLOSED
12 nights accommodation in boutique hotels in Kathmandu & cosy tea-houses on the trail

Fully-supported trail running trip

Cultural sightseeing

Full board through the trip

All transfers

Permits and conservation fees

1 : 4 Guides to Runners Ratio

GPS Live-tracking
Beautiful trail running in the Himalayas

Standing on the summit of Pikey Peak (4,065m)

Seeing the sunrise over Mount Everest, as well as other Himalayan Giants

Stay in cosy tea houses and uncover the rich tapestry of Sherpa life

Experience a fully-supported adventure travelling only with light-packs

DAY 1 - Arrive into Kathmandu
Welcome to the Himalayas!
Day arrival into Kathmandu's International Airport at any time and we will have a private transfer waiting to collect you in the arrivals area.
A short journey to your hotel with time to relax and chill before we all meet up over fresh tea on the garden terrace of the hotel (which has great views of the city!).
We then don our trainers and head out into the ancient streets to get a slice of Kathmandu. We have an evening meal planned at one of the cities best-kept secrets, to chat further about our adventure and get to know the rest of the team, before retiring for some well-earned rest.
DAY 2 - Explore Kathmandu
We have a beautiful day planned as we head out into Kathmandu to see some of its ancient wonders. We will also have the opportunity to stretch our legs and do some light running as our friends from the Trail Running Association of Nepal will show us around.
We'll start in the adventurous Thamel district, weaving our way past mountaineering shops and local artisans plying their trades. Moving onto Kathmandu's Durbar Square - a medieval wonder, as well as the Swayambhunath Monkey Temple for crowning views of the entire city and the nearby Himalayas.
Downtime this evening to recheck our kit and getting ready to hit the trail.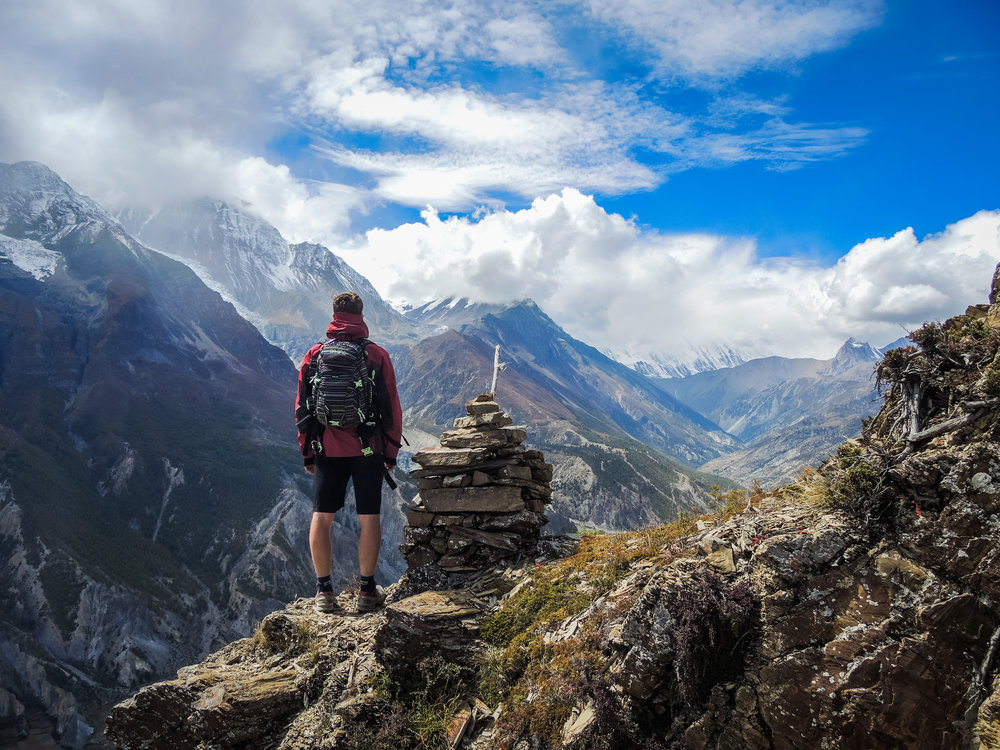 DAY 3 - Into the foothills of the Himalaya…
Checking out of our hotel our 4WD transfer will be waiting to drive us along the Tibetan Road as we head into the Himalayan foothills to the start of the trail.
It's a bit of a journey along the mountain roads (8 hours drive), as we cross glacial rivers and drive past many local ethnic villages. We'll make plenty of stops along the way to make the most of the route.
Eventually arriving into the village of Sivalaya for our overnight stay. The village has a rich Tamang, Newar and Sherpa culture and is the perfect spot to try some tasty Dhal Bhat before getting our heads down in our tea house.
DAY 4 - Hit the trail to Bhandar
(approx. 4 - 5 hours trail running)
Up early as we hit the trail after breakfast. All of our travel gear will go ahead of us by yak or porter which allows us to travel light with only small packs.
The trail rises through scattered ancient villages, over mountain rivers towards the village of Deurali (2,705m) which is covered in Tibetan and Buddhist Mani walls. It also doesn't take long until we start seeing the mighty Himalayan peaks on the nearby horizon.
Our route then gently descends into the Sherpa village of Bhandar, which has a collection of Buddhist stupas and a small monastery.
Checking into our tea house we have the village to explore with the chance to meet local people.
DAY 5 - Onwards to Namkili
(approx. 5 hours trail running)
On this day, we will run to Namkheli from Bhandar which sits slightly higher at 2,300m. We make a gradual descent along the trail to the Likhu River before we make our climb up to Chaulakharka for a tasty local lunch.
We then have a steep two-three hour ascent of to Namkhile where we stay overnight.
DAY 6 - To Ngawar Gompa
(approx. 5 hours trail running)
We start our journey with an ascent to the Goli Gompa Danda a curious Buddhist settlement which is worth exploring. Our day then continues upwards towards Ngawar Gompa at a lofty 2,800m.
The views up here are outstanding with plenty of places to stop and enjoy our surroundings along the way. The valleys below our mouth-watering.
There is a small cheese factory we'll stop by at before heading through lush Rhododendron forests and onto our tea house stay for the night.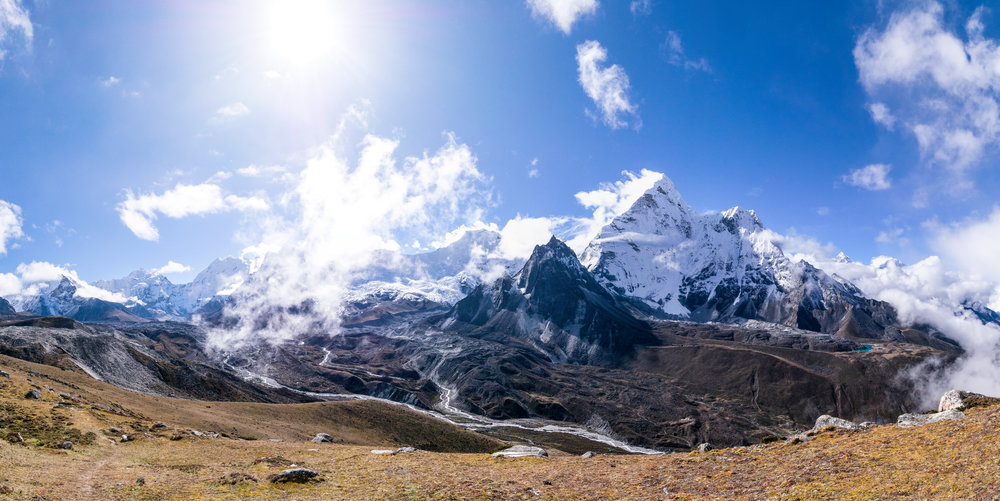 DAY 7 - Pikey Peak Base Camp
(approx. 2 - 3 hours trail running)
We have an easier, shorter day today as we head upwards to the base camp of Pikey Peak. It's important to rest and acclimatise to the rising altitudes.
The trail continues through ludicrously beautiful scenery with colourful meadow flowers and forests to traverse through. If the weather is nice we may continue up to the summit of Pikey Peak and return back down to our base camp for the evening.
DAY 8 - Summit Pikey Peak (4,065m) and onto Jase Bhyangyang
(approx. 4 hours trail running)
We start our day nice and early this morning to catch the best views from the summit of Pikey Peak (4,065m). We follow a gradual trail to the top with the summit covered with prayer flags.
The views up here are breathtaking with panoramic views of Kanchenjunga, Everest, Makalu, Rolwaling, Numbur, Gauri Shanker and many other peaks from East to West.
From the top of Pikey Peak, we then follow a ridgeline which starts flat and then steepens as we enter the forest to Jase Bhyangyang.
DAY 9 - Trail to Junbesi
(approx. 5 hours trail running)
Leaving behind Jase Bhyangyang we head towards Lamjura-La (3,530m) a beautiful spot covered with prayer flags and incredible views of the surrounding mountains.
The trail descends nicely over an old jeep track and picks up a local trail through traditional villages until we reach Junbesi.
The village is known as a cradle of Sherpa culture. As we are in this remote part of Nepal with the nearby borders of Tibet, Buddhism flourishes and there are numerous Buddhist monasteries along the way.
We'll stop by to explore some of them before pulling into our accommodation for the evening.
Day 10 - Running to Taksindu Deurali
(approx. 5 hours of trail running)
We head up the valley through lush forests again, catching sights of Mount Everest and the surrounding peaks. It's also a day where we cross Nepali suspension bridges over glacial rivers as we ascend to the village of Ringmo which has some truly outstanding Tibetan architecture and apple orchards. We'll be stopping to try some delicious apple pie and cider.
The trail then descends sharply through forests with great mountain views until we reach our overnight stop.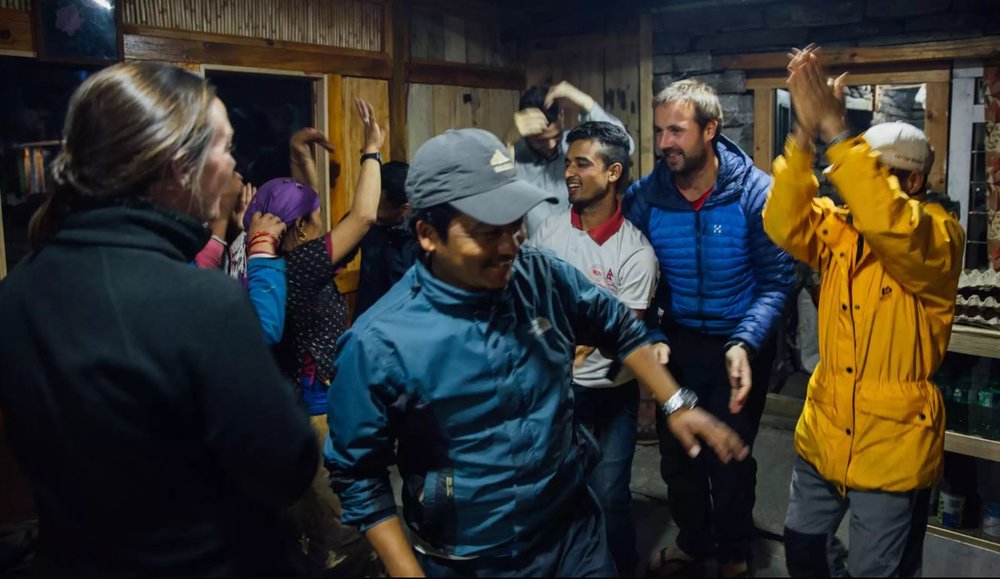 Day 11 - Final day to Phaplu
(approx. 4 hours of trail running)
Our last day on the trail so we will start with a hearty breakfast before leaving our tea house.
Our route today heads down a beautiful path via forests with the chance to stop by a monastery that is perched high on a cliff overlooking the valley.
We continue down into Phaplu, arriving at our cosy tea house with time to celebrate completing our journey. Beer and tasty Nepali food will be aplenty.
Day 12 - Return to Kathmandu
Early this morning we'll meet up with our 4WD vehicles as we head back to Kathmandu. The journey is scenically outstanding but will take as long as 7 hours to reach the city as we travel along slow roads.
Don't worry, as we will have mountain views to keep us company.
Arriving at our hotel, it's time to relax, chill and have a well-deserved soak to rest after our journey. The rest of the day is at your leisure to explore or try a spa treatment.
Day 13 - Homeward Bound
It's time to pack up and bid farewell to your new-found trail running friends and our local team.
Private transfers are arranged for you back to Kathmandu's Tribhuvan Airport in time to connect with your onward flight back home.
Hotel Mulberry, Kathmandu
We love the Hotel Mulberry, not only is it slap bang in the middle of the Thamel District which makes it incredibly convenient for getting around and seeing the historic sights. But you can also relax with a cocktail in hand gazing at the nearby Himalayas from the rooftop terrace.
Contemporary design and modern features make it one of our favourite bases in the busy capital.
Tea Houses
Tea houses are part of the fabric of rural Nepal – charming, cosy and serving up hot, tasty local fare to keep you full along the trail.
It must be stressed that tea houses by their nature are simple, rooms often only have twin beds and come with a clean sheet on a mattress and pillowcase. Toilets are almost always shared and are in squat format. Tea houses in the lower valleys will have access to hot water and 'probably' a shower, the higher you go the less likely the chances of showering facilities, but you can always buy tubs of hot water for a bucket wash.
We always use the best tea houses in every village. Considering the environment they provide everything you need.
FLIGHTS
We specialise in arranging excellent trail running holidays, but do not book International flights. As there is a great variety of value flights departing from all over the world to Kathmandu's Tribhuvan International Airport (KTM).
We will discuss with you about our trusted and recommended ways to book international flights through excellent ATOL protected partners who offer great value, ease of service and flight protection.
VISAS
All travellers to Nepal must hold a valid passport. Your passport must be valid for at least six months beyond your expected departure from Nepal.
An entry visa for Nepal is also required. It can be obtained either online or at the airport upon arrival in Nepal. If you plan to obtain it in Nepal, be sure to bring the current visa fee in cash. You will also need to bring passport photographs with you which are necessary for your visa and trekking/climbing permits.
GROUP MANAGEMENT
Being a group of max. 12 runners with a mixture of ages and running abilities we may decide to split into flexible groups, all of which will be supported by Nepali running guides who will travel with us on the trip.
By splitting the group will allow us all to move more fluidly, allowing all team members to run at their own comfortable pace, without feeling pressured.
TRAIL RUNNING
Not only are the mountains spectacular, but the trail runs through a great variety of terrain along every step of the way – it is a wonder.
Lush forests and canyons characterize the entry valleys where we will spend our time traversing wide dusty trails at altitudes of 700-1000m. We follow along the banks of wide glacial rivers and undulating trails.
The terrain slowly becomes more mountainous the higher we go, picking our way through large boulder fields and dry plains where gigantic mountains – seemingly in touching distance – surround us on all sides. All the while the trail is very obvious as we pass through one charming village after the next.
TEMPERATURES
Temperatures tend to be quite cool in the mornings and evenings, but heat-up at midday due to the strong, direct sunlight at high altitudes. Clear mornings with the chance of clouds developing in the afternoons. Highs in the mid 20's to mid-teens (Celsius). It will be perfect for trail running.
How far do I need to be able to run?
Our trips are designed for people of all running abilities. Fast or slow, it doesn't matter as we look to deliver flexible daily runs on all of our trips.
A typical daily distance on our trips would be somewhere between 6km - 15km per day, depending on the trip this could be a longer daily distance of up to 15 - 20km. Our longest days do not go much higher than this. Our daily distances are also dictated by the terrain we run on, sometimes we cross mountain passes which take a bit of time to walk over which naturally takes longer to cover the distances.
Most importantly though, these are journeys rather than races and our group trips are managed accordingly to individuals running requirements, splitting the group if necessary if the desire is to run slower or faster. If you wish to run longer, we can easily extend this for you.
What type of terrain will we run on?
We prefer to travel on beautiful, empty trails to places which are reasonably off the beaten path.
As a result, of our destination choices, there is a range of terrains which we run upon. You can expect everything from beech forests, lush meadows, open pastures and soft grass in entry valleys.
We also do a lot of running in the mountains, being surrounded by lofty peaks. As a result some of our days include walking or running if steep mountain passes as we traverse from one valley to the next. As we go higher we expect the terrain to become dryer as we move over cobbles, stones and boulder sections.
Occasionally, we run at altitudes higher than 2,500m, but typically our ascent will not go over 1,500m.
What type of accommodation do you use?
We prefer to stay in characterful, boutique hotels and lodges which offer personality, rather than staying in larger resorts.
Location is key as it's nice to get out and explore rather than be bused in to go sightseeing or shopping.
When we are out on the trail we will make the most of staying in cosy, simpler village guesthouses. Often these are alpine-style, surrounded by meadows with cows grazing, the gentle sounds of streams trickling past and panoramic views from every room.
Delicious and varied local meals are also a guarantee. Expect big plates of mozzarella, salads, olives, cured meats and lashings of local beer and wine at the end of well-earned day on the trail.
What happens to my luggage?
All of our trail running groups are fully-supported which means that you are only required to travel with a light pack, allowing us to travel more fluidly and giving the chance to focus on enjoying the experience in the process.
On our European trail running adventures, our large luggage will be transported ahead of us each morning by mini-van and will be left waiting for us in our rooms for our arrival later that day.
In destinations such as the Himalayas and the Albanian Alps, our large luggage will be transported ahead of us via yak, mule or porter. For such trips, we recommend bringing softer duffel bags which are easier to transport. A typical example will see our large luggage being transport several hours ahead of the groups' departure where you will be reunited with your luggage at the end of the day.
Is it all running the entire trip?
Whilst these are trail running holidays with daily runs included, it's a holiday after all and we feel it's important to make the most of cultural interaction with sightseeing included alongside the running.
We combine our breathtaking routes with cultural gems which are carefully crafted to give you unique travel experiences whilst exploring the trail.
At the same time though we are flexible. If on a day you are feeling a bit tired and would prefer to explore an ancient Roman ruin rather than run through a mountain valley, we'll make it happen for you.
What if I am a solo traveller?
No problem, a majority of people who join our trips are solo travellers. We don't charge for single supplements as we think it's unfair to penalise single travellers.
All of our trips are set up for twin or double rooms which works well when we stay in smaller boutique lodging. If you feel strongly about having your own room, please tell us in advance so we can make this arrangement for you without complication.
What is included in the cost of the trip?
We include just about everything so you can focus on trail running in extraordinary places. All transfers, trail running, guiding, accommodation, meals and cultural experiences are included.
The only additional costs you need to cover are for individual souvenirs, snacks, and beverages outside of what we offer. For example, if you fancy a local beer from a cafe partway through the day.
Do I arrange my own international flights?
Yes. We specialise in arranging excellent land-only arrangements with our ground team and do not book international flights. As there is a great variety of value flights departing from all over the world to the range of destinations we work in.
Throughout your booking process, we will discuss our trusted and recommended ways to book international flights through excellent ATOL protected partners who offer great value, ease of service and flight protection.
Let us know your arrival and departure details in advance and we will take care of everything else from the moment your land.
What type of food do we eat on the trip?
Part of the joy of travelling to the destinations we visit is the local cuisine. Fresh eggs, salads, cured meats, fish, olives, curries, and rice dishes…the list is endless. We want you to experience the local culture at it's best, which certainly involves diving into the huge diversity of delicious dishes we will find everywhere we visit.
In Nepal, we will eat tasty Dhal Bhat curries served with poppadoms, local vegetables, and steamed dumplings. In the Mediterranean fresh, vibrant salads will be delivered for lunch while in the evening we eat moussakas, paellas and other wonders which are complimented for great wines and beers.
What do I need to pack?
Certainly your trail running shoes!
As each of our trips climates and terrains vary we will send out a trip specific adventure pack which will cover the types of kit and clothing required. We send this in advance so that there is time for you to purchase anything you do not already own.
What about dietary requirements?
No problem, we can take care of anything and everything. All destinations we deal with are used to catering with a variety of dietary requirements. Please inform us in advance and we will ensure this is taken care of for you.
What's the payment schedule for your trips?
A deposit payment of £250 confirms your spot on the trip. Then there is nothing else to pay until your final balance is due 12 weeks before departure. Terms and conditions apply to payments and we will make you aware of these when signing up to one of our adventures.
In some circumstances we may need to a larger deposit or an interim deposit, but not without telling you first. Our trip details will be clearly explained before signing up.
Reviews
Done this event?
First-hand event reviews from people who have been there, done that and got the breathable T-shirt, really help everyone choose their next event.
Add a review