This event has taken place
Congratulations to everyone who took part. We're waiting on information about the next edition of this event.
Did you race? Let the community know how you got on and leave a review.
Add a review
Want to see all previous and future editions of this event, find them below.
Trail Run Mallorca | Crossing the Tramuntana
Port de Soller, Mallorca, Spain
Port de Sóller, Spain
Organiser's Description
--- This event has been cancelled due to ongoing concerns regarding Coronavirus. The race organiser will be in touch with you in due course if you have made a booking for this event. ---

Join us on a spectacular trail running journey as we look to cross the Serra de Tramuntana mountains of Mallorca.

Mallorca is a real surprise package; covered with turquoise coves, white sand beaches, and sleepy provincial towns. But, look a little to the north and you will find the Serra de Tramuntana mountain range, which rises steeply up from the blue waters of the Mediterranean and extends across the width of the island.

Our journey follows the 'Dry Stone Way' as we meander our way over ancient pilgrim paths, orange and olive groves, beautiful little towns, astonishing beaches, and lush mountain tops. Outstanding views are guaranteed.

Book now with a £250 deposit, balance of £1,045 due 12 weeks before departure. Total cost is £1,295.

Over eight days, we trail run along some of the best routes in Europe, as well as staying in a beautiful boutique hotel on the lapping shores of the Mediterranean.
Races
Deposit for One Person

£250.00

Final Balance of £1045 Due 12 Weeks Before Departure
Deposit for One Person

£250.00

Final Balance of £1045 Due 12 Weeks Before Departure
INCLUDES:

- 7 nights accommodation in a beautiful wellness hotel on the beaches of Port de Soller

- Fully-supported trail running trip

- Breakfast and lunches throughout the trip (except on rest day and the last day of the adventure)

- All transfers

- 1 : 4 Guides to Runners Ratio

- Support vehicle throughout (Fully stocked)

- 5 Days of Trail Running on empty trails
Trail running across the Serra de Tramuntana Mountain range

Explore sleepy provincial towns and experience Mediterranean hospitality at its best

See turquoise coves and white sand beaches hidden away from the tourist trail

Experience a fully-supported adventure travelling only with light-packs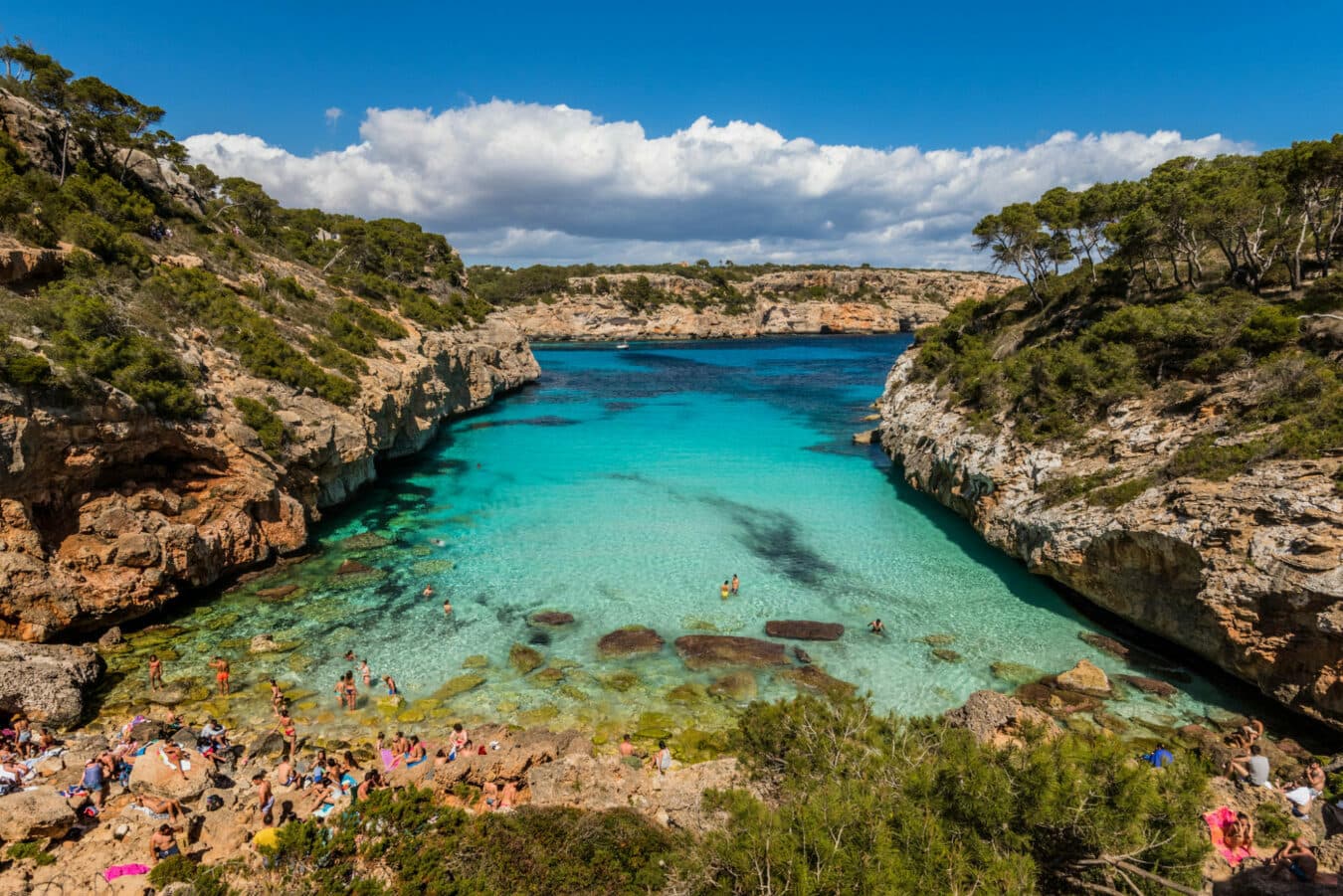 Day 1 - Arrival into Majorca
No trail running. Welcome to Mallorca! Arriving into Palma de Mallorca Airport at any time we'll pick you up in the arrivals area of the airport (you won't miss us!) and take you straight out to our hotel in the charming coastal town of Port de Soller (the journey should take between 35 - 45 minutes).
Mallorca is surprisingly big, but it is remarkably quick to get around and it won't take us long to reach our accommodation. We check-in with some time to relax and get your bearings after the flight.
We will all catch up later that evening for us to get to meet your fellow Pure Trail runners, as well as our trail running guides for a briefing of the adventure that lies ahead for us.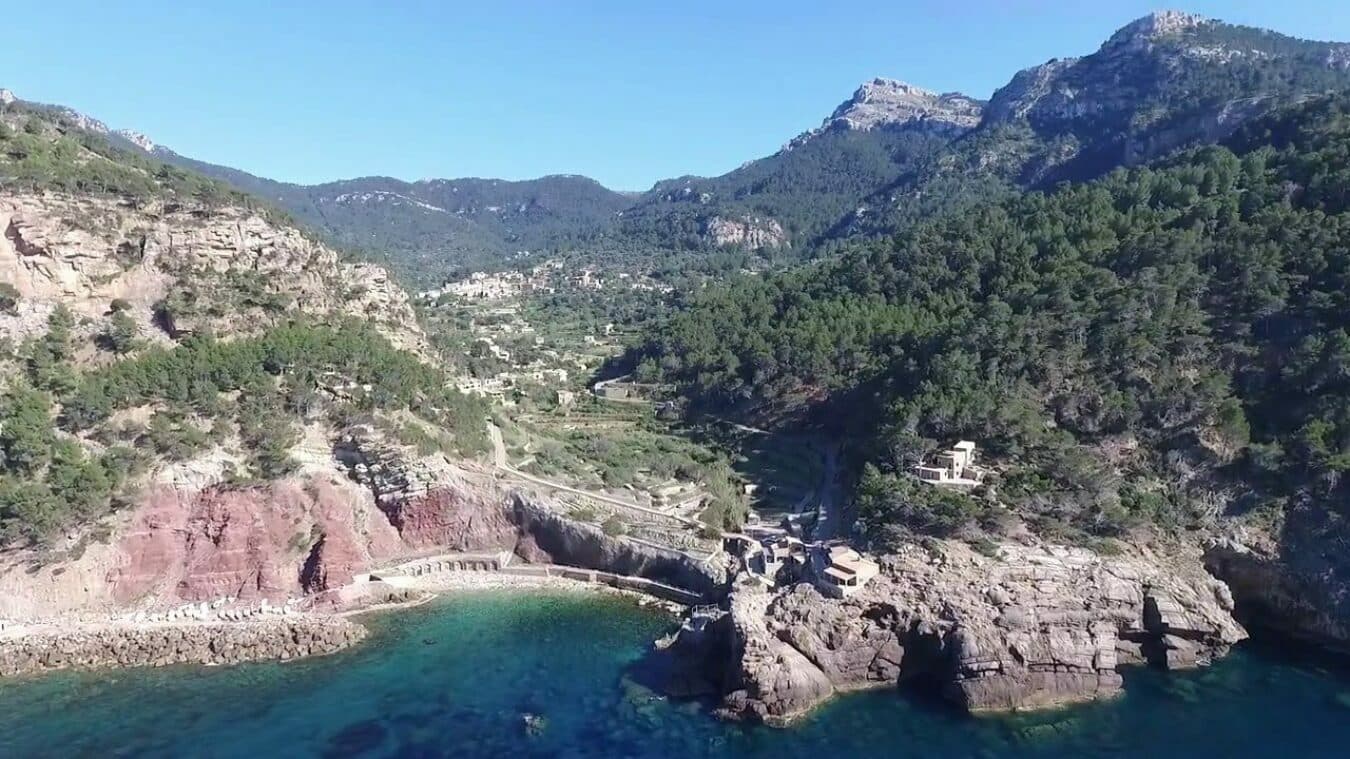 Day 2 - Approx. 8 to 10 miles (3 - 4 hours Trail Running)
Departing our hotel after breakfast we drive to the pretty inland village of Es Capdella (approx. 45 minutes driver) in the foothills of the Serra de Tramuntana mountains. Departing the village we soon hit the trail which starts gently running on dry undulating tracks with amazing views of the Puig Galatzo mountain which stands proud in the middle of the valley.
The trail continues on through large olive groves and passes the impressive Finca de Galatzo - a grand old estate which is surrounded by orange and olive groves. After a while we skirt beech forest, large boulders and big mountains flanking us to the left. As we run through the forest we begin to see the remnants of lime kilns, ice-wells and old charcoal burners from times gone by.
About half-way through our journey we begin a steady but steep but very satisfying climb which tops out over a beautiful col. Looking back the views are magnificent and inspiring. We then have the joy of running downhill, running past a mountain refuge and picking up the trail through a forest before we reach the main road where our support vehicle will be waiting for us with supplies and to top up our water bottles.
After a brief road section we enter a forest, with the Mediterranean seemingly within touching distance. We then arrive into the village of Estellencs - our final part of the day - where our team will be waiting to meet you and transfer you back to Port de Soller with the rest of the day to relax.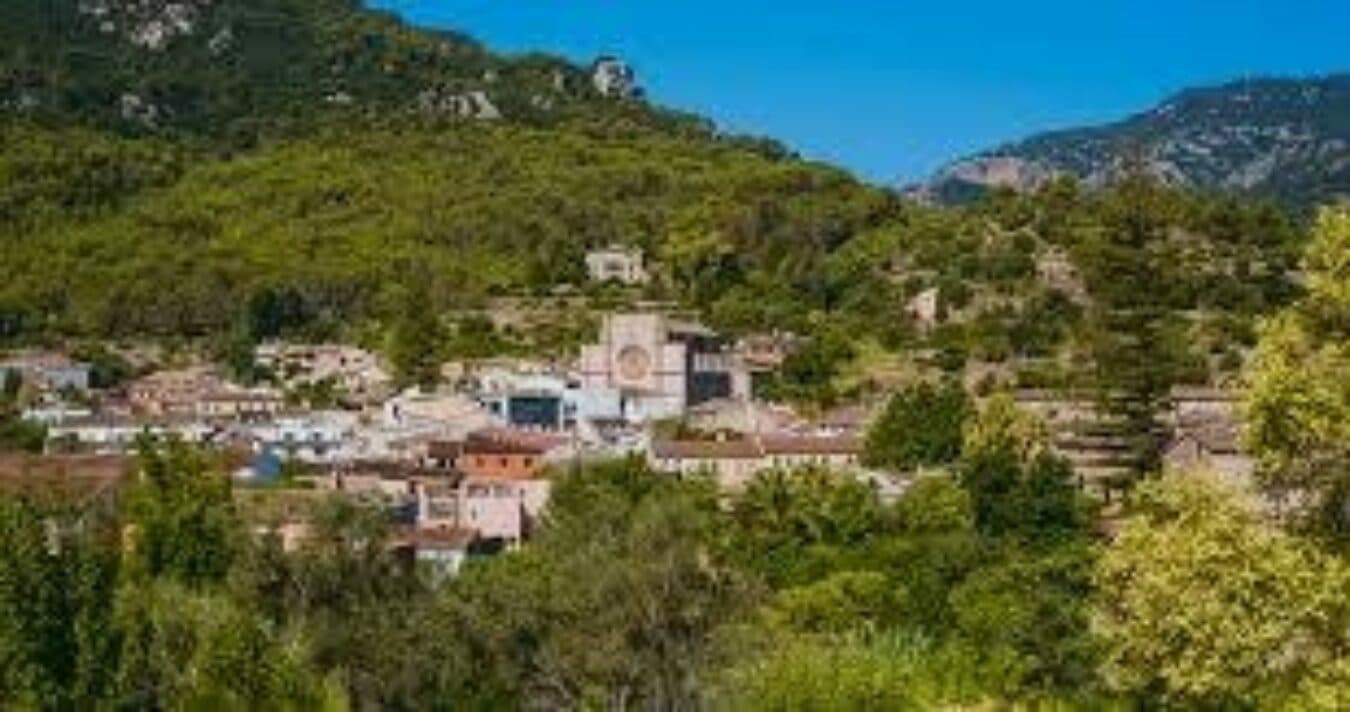 Day 3 - Estellencs - Esporles - Approx. 9.5 miles (2 - 3 hours of Trail Running)
After breakfast we drive back to Estellencs which will take around 1 hour to reach as we travel along the mountain and coastal roads. The views are so beautiful we are likely to make a few impromptu stops - particularly at the Torre del Verger - which is very impressive.
We hit the trail again picking up where we left off, departing Estellencs along a short section of the road, which soon diverts off onto a trail before picking up a smaller section of road again. The trail starts to climb steeply uphill alongside an old trail and farm stead as we emerge into a beautiful beech forest with blue views of the Mediterranean to the north. At this point the trail really begins to open out and makes for exceptional trail running.
After a while the trail becomes stonier and it's advisable to take care as not to come over on an ankle. The trail trickles down towards the beautiful village of Banyalbufar where our support vehicle will be waiting to meet us and top us up on supplies. We begin a steep, long climb up (500-600m) through the old village which follows on old road, turning from asphalt to cobbles as we head to the Coll de Sa Basseta passing ancient homesteads which time has forgotten. As we begin our very steep downhill, care is advised as the cobbles are hard to navigate and its worth slowing down if you are running fast.
You can also see ancient ice-wells can be spotted which are impressive and worth stopping to explore. Finally we reach the main road, which we cross and follow the undulating trail, alongside a pretty stream as we emerge into pretty Esporles. Time to relax and soak up the day in one of the nearby cafes, before we head back to Port de Soller.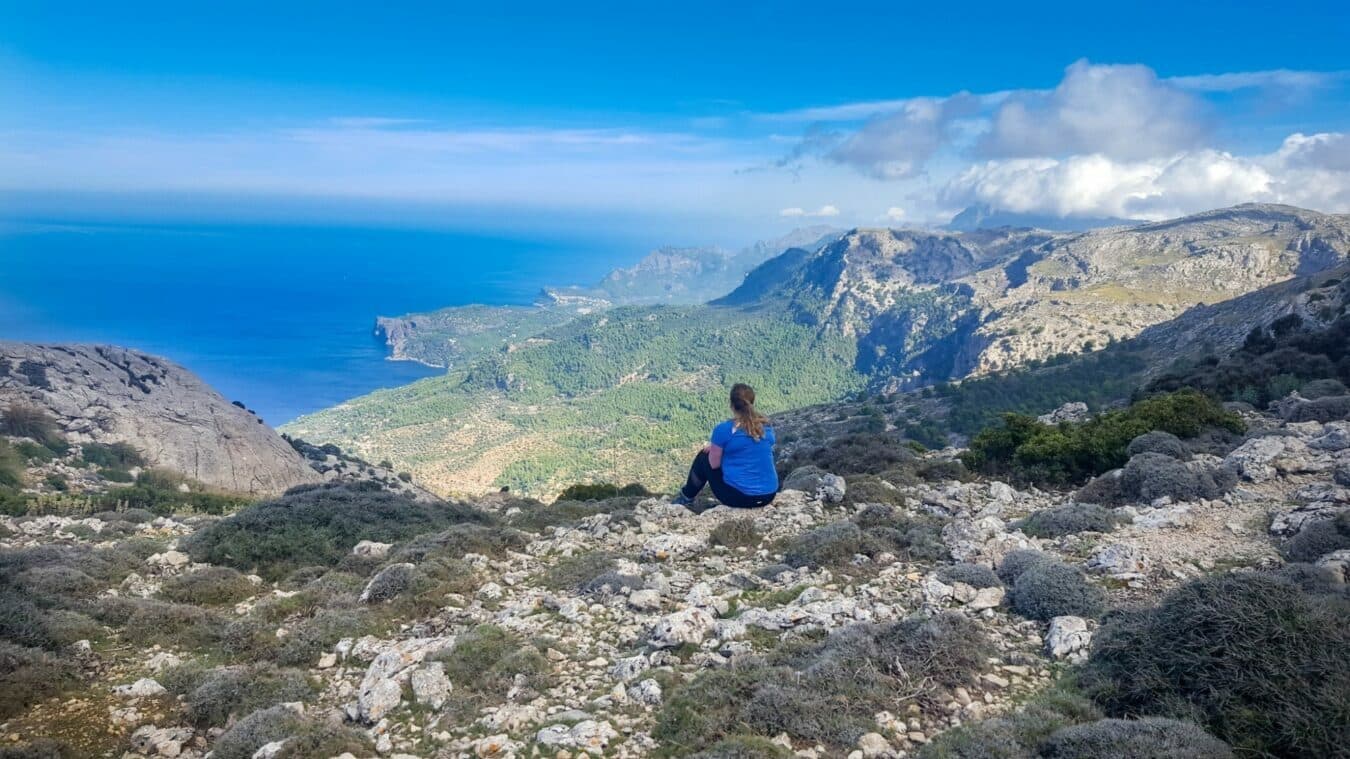 Day 4 - Valdemossa to Deia Approx. 10 - 11 miles (4 -5 hours of Trail Running)
One of our favourite days of the whole trail running journey. This is a beautiful, but challenging part of the journey with a steep, long climb out of Valdemossa as we head towards the charming town of Deia via the summits of Puig Graz and Es Caragoli for some incredibly rewarding views from the top. After breakfast we drive to the incredible village of Valdemossa which is an easy 35-minute drive from our hotel.
If time and the group allows we'll explore the village before heading onto the trail. We pick up the trail which makes for comfortable running as we enter a valley with lofty peaks above us. Before long this section turns into a steep, long climb which we intend to walk up. Many lime kilns and charcoal burners can be seen throughout the forest as we head upwards.
The trail eventually slackens off near the mountain refuge where there is a great spot to sit and rest to take in the views. As we emerge above the trees the views are instantly magnificent as we pick up a more runnable section as we head to the first summit of Puig Graz (937m) - a great spot for photos. After this point the trail becomes very stoney and care needs to be taken when running as we head towards of second summit of Es Caragoli for more pictures and time to take in the breath taking views. We then immediately start a long, hard descent with distance views of Deia coming into range.
This section of the day can feel quite exposed and great care will be taken as we begin the first stage of our descent. We will only walk this section of the narrow trail as we stick close to the cliff base and venture down towards the beech forest. Eventual the descent begins to ease and we can start some beautiful trail running again as we enter a medieval olive grove terraces and villages which time has completely forgotten.
An old cobbled path helps us along our way as we travel down into the breath-taking village of Deia where our support vehicle will be waiting to meet us with time available to explore the village before we head back to Port de Soller.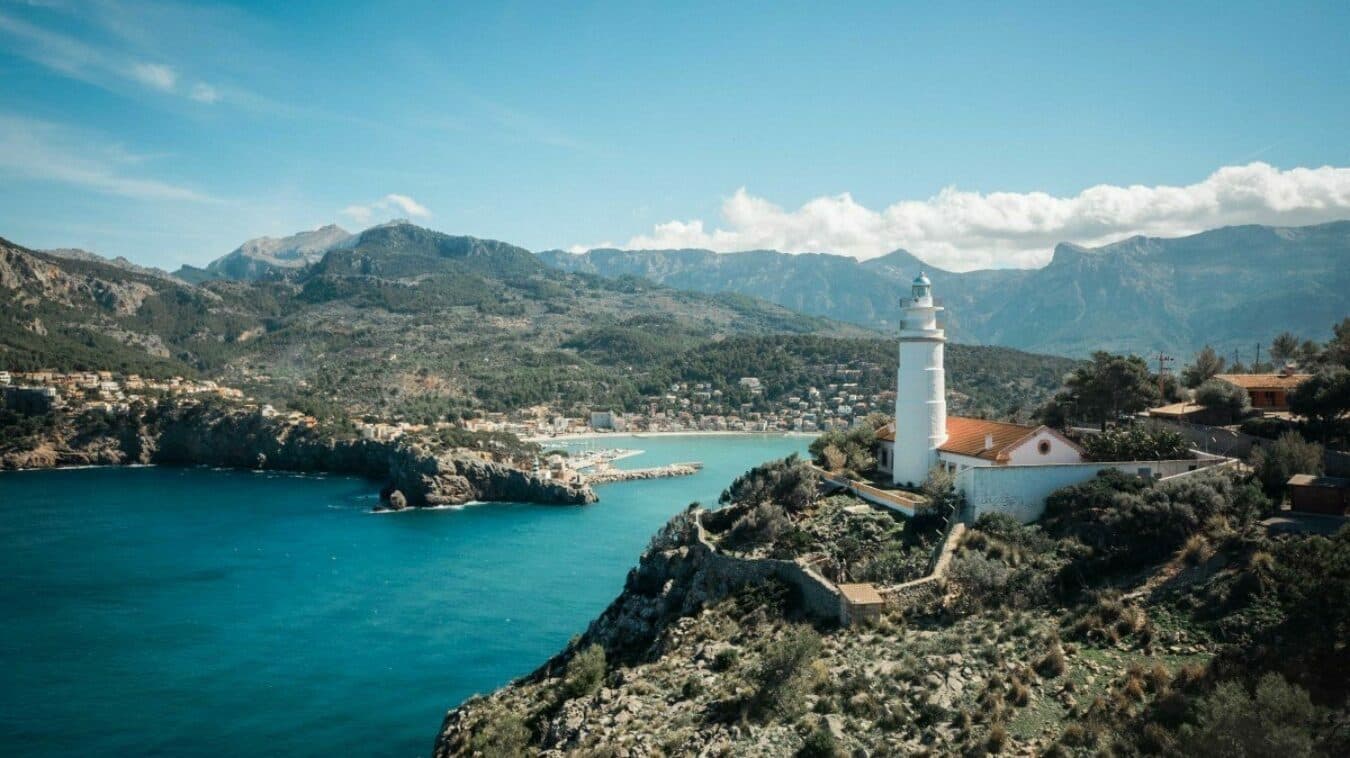 Day 5 - Rest Day No Trail Running.
Today we have a full rest day to relax and enjoy Port de Soller. There are several optional excursions we recommend (available at additional cost) if you would prefer to see some other parts of the island: + Take the old tram from Port de Soller to Palma to visit some of the cities cultural wonders + Go sea caving or dry canyoning + Visit some of the islands remoter beaches.
We can arrange for local visits through our partners either in advance or we can discuss with you locally when we are in Mallorca.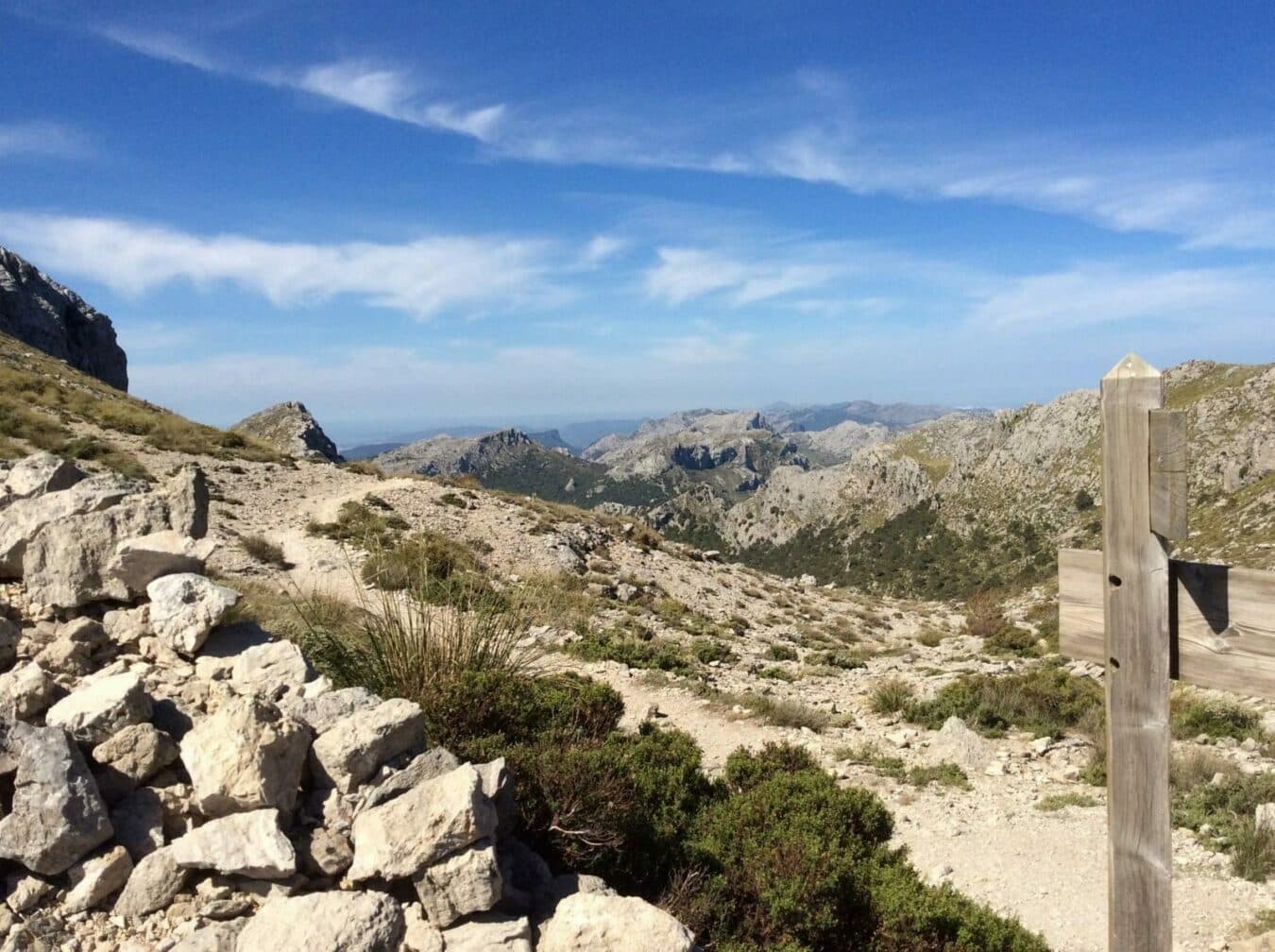 Day 6 - Soller to Lluc. Approx. 12 - 13 miles (4 - 6 hours of Trail Running)
Today is our longest, but also one of the day best days of the entire trail. We'll start the day after an early breakfast as we head to Soller which is a short distance away.
Running through the ancient we arrive in the curious little town of the Barranc de Biniaraix which is the gateway to a spectacular gorge. The dry stone trail ascends steeply via the ancient cobbled pilgrim's path, alongside sheer cliffs and shady terraces which time has seemed to have forgotten. Looking behind the views of the mountains and oceans is simply spectacular. Arriving at the top of the gorge the trail slackens as we then enter a pine woodland.
The trail then descends wonderfully as we head towards the Cúber reservoir, a welcome landmark with outstanding mountain views on all sides. Our support vehicle will be waiting for us here to top up our supplies before heading onto the second section of the day. The trail head towards the Font des Prat which is an easy path, to begin with. We'll pass a series of ancient snow-pits along the way giving us an insight into the islands rural history.
We'll travel through oak woodland and after a slow climb through the top of the treeline we emerge at the top of a mountain pass - the Coll des Prat. The views from here are extraordinary with Puig Major (the islands highest peak) standing proud behind us. Our trail then descends through old villages, with one final climb, as we head down a stone path until we see the Lluc Monastery coming into view. If we arrive before 5 pm we'll be able to see the famous choir school's daily rehearsal, before heading back to Port de Soller.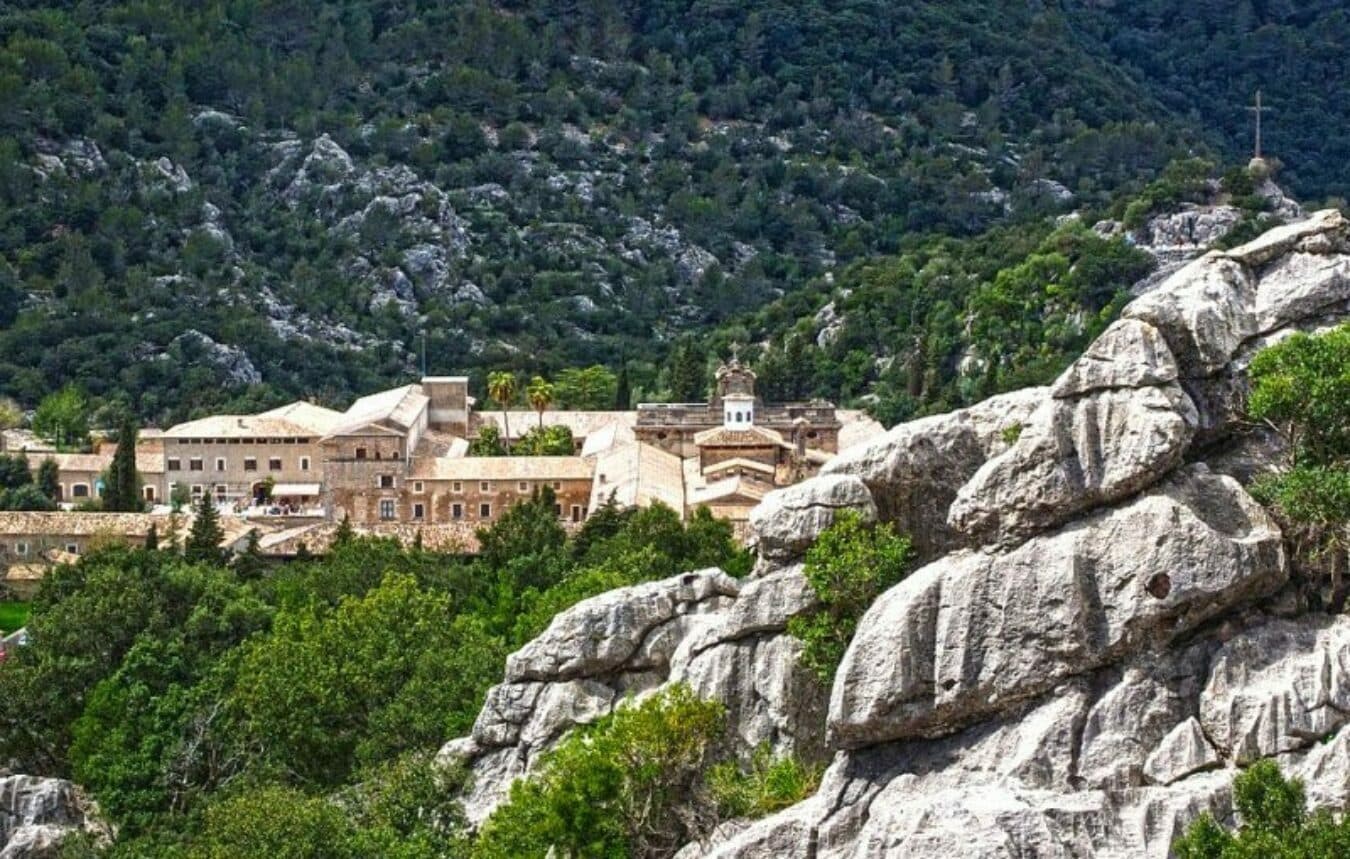 Day 7 - Lluc to Pollenca Approx. 9 - 11 Miles (3 - 4 hours of Trail Running)
Our final day on the trail. We'll depart from Port de Soller and take the impressive mountain road back towards the Lluc Monastery, the mountain road is a bit slow and will take us around about 1 hour to reach. Much of the day is an enjoyable descent as we pick up the trail from the Lluc monastery.
A familiar sight is the oak woodland which we once again travel through before picking up country lanes that route through old villages. In the near distance, we can see the bay of Pollenca as we descend gently the whole way down, with one small but final climb to navigate before we enter the old town.
Arriving into Pollenca we'll take some time to explore and enjoy a drink in the provincial square to celebrate our journey. Our support vehicle and transport will then be waiting to take us back to Port de Soller for some proper time to relax and enjoy the beach. This evening we'll celebrate our crossing of Majorca with a group meal at our hotel.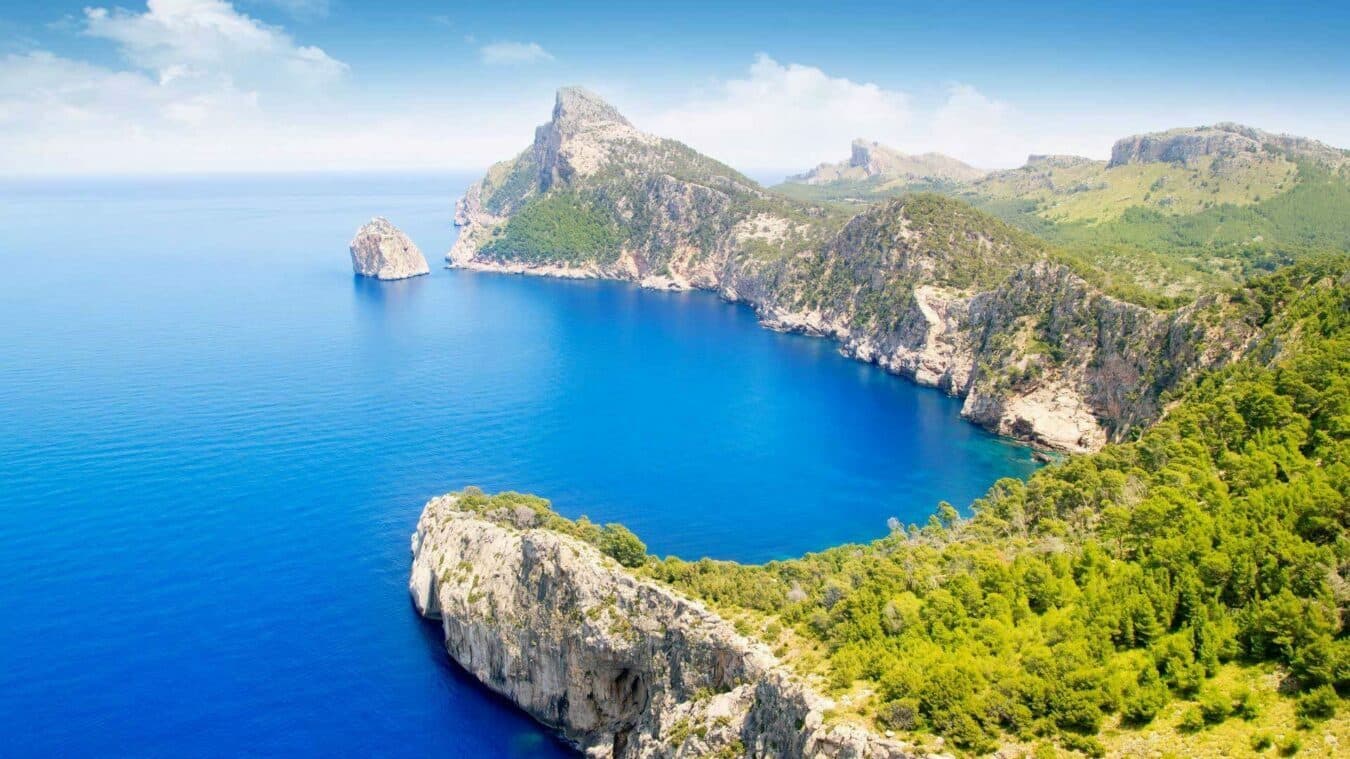 Day 8 - Homeward Bound
It's time to pack up and bid farewell to your new-found trail running friends and our local team.
Private transfers are arranged for you back to Palma de Majorca International Airport in time to connect with your onward flight back home.
Majorca is blessed with beautiful boutique hotels right throughout the entire island. As a result, we will be making the most of such hotels, choosing clean and comfortable bases in fantastic locations in each of the provincial towns we will visit.

All follow sustainable practices, serve delicious Mediterranean style food and are wonderful places to relax after a day on the trail.
FLIGHTS
We specialise in arranging excellent trail running holidays, but do not book International flights. As there is a great variety of value flights departing from all over the world to Palma de Majorca International Airport (PMI).
We will discuss with you about our trusted and recommended ways to book international flights through excellent ATOL protected partners who offer great value, ease of service and flight protection.
VISAS
British citizens do not need a visa to visit Spain.
GROUP MANAGEMENT
Being a group of max. 12 runners with a mixture of ages and running abilities we may decide to split into flexible groups, all of which will be supported by our Albanian running guides who will travel with us on the trip.
By splitting the group will allow us all to move more fluidly, allowing all team members to run at their own comfortable pace, without feeling pressured.
TRAIL RUNNING
Trail running the empty GR221 is magnificent and a real surprise when visiting Mallorca. We often associate the island with beautiful beaches and overlook the stunning Tramuntana mountain range that extends across the island.
We expect the trails to be quiet, travelling through along dry stone paths (where the route took it's name), forests and through orange, olive and other citrus groves. We will also pass through many quiet traditional villages and local provincial towns with their cobbled streets and open air cafes. All the while the loft heights of the Tramuntana will flank us on one side.
At times we will climb steeply through wide canyons, particularly as we leave behind Soller which is the steepest and most spectacular of days. cross over from one valley to the next, climbing stepper paths with boulder and dry rock sections. Our maximum altitude will reach around 1,200m.
Our large luggage will be transported mini-van to each destination and you can focus on only running with a light pack.
TEMPERATURES
Mallorca enjoys a Mediterranean climate year around. We purposefully choose to run this trail running trip in the spring as the temperatures sit in the early to mid 20 degrees C with clear days expected. The conditions are absolutely perfect for trail running.
How far do I need to be able to run?
Our trips are designed for people of all running abilities. Fast or slow, it doesn't matter as we look to deliver flexible daily runs on all of our trips.
A typical daily distance on our trips would be somewhere between 6km - 15km per day, depending on the trip this could be a longer daily distance of up to 15 - 20km. Our longest days do not go much higher than this. Our daily distances are also dictated by the terrain we run on, sometimes we cross mountain passes which take a bit of time to walk over which naturally takes longer to cover the distances.
Most importantly though, these are journeys rather than races and our group trips are managed accordingly to individuals running requirements, splitting the group if necessary if the desire is to run slower or faster. If you wish to run longer, we can easily extend this for you.
What type of terrain will we run on?
We prefer to travel on beautiful, empty trails to places which are reasonably off the beaten path.
As a result, of our destination choices, there is a range of terrains which we run upon. You can expect everything from beech forests, lush meadows, open pastures and soft grass in entry valleys.
We also do a lot of running in the mountains, being surrounded by lofty peaks. As a result some of our days include walking or running if steep mountain passes as we traverse from one valley to the next. As we go higher we expect the terrain to become dryer as we move over cobbles, stones and boulder sections.
Occasionally, we run at altitudes higher than 2,500m, but typically our ascent will not go over 1,500m.
What type of accommodation do you use?
We prefer to stay in characterful, boutique hotels and lodges which offer personality, rather than staying in larger resorts.
Location is key as it's nice to get out and explore rather than be bused in to go sightseeing or shopping.
When we are out on the trail we will make the most of staying in cosy, simpler village guesthouses. Often these are alpine-style, surrounded by meadows with cows grazing, the gentle sounds of streams trickling past and panoramic views from every room.
Delicious and varied local meals are also a guarantee. Expect big plates of mozzarella, salads, olives, cured meats and lashings of local beer and wine at the end of well-earned day on the trail.
What happens to my luggage?
All of our trail running groups are fully-supported which means that you are only required to travel with a light pack, allowing us to travel more fluidly and giving the chance to focus on enjoying the experience in the process.
On our European trail running adventures, our large luggage will be transported ahead of us each morning by mini-van and will be left waiting for us in our rooms for our arrival later that day.
In destinations such as the Himalayas and the Albanian Alps, our large luggage will be transported ahead of us via yak, mule or porter. For such trips, we recommend bringing softer duffel bags which are easier to transport. A typical example will see our large luggage being transport several hours ahead of the groups' departure where you will be reunited with your luggage at the end of the day.
Is it all running the entire trip?
Whilst these are trail running holidays with daily runs included, it's a holiday after all and we feel it's important to make the most of cultural interaction with sightseeing included alongside the running.
We combine our breathtaking routes with cultural gems which are carefully crafted to give you unique travel experiences whilst exploring the trail.
At the same time though we are flexible. If on a day you are feeling a bit tired and would prefer to explore an ancient Roman ruin rather than run through a mountain valley, we'll make it happen for you.
What if I am a solo traveller?
No problem, a majority of people who join our trips are solo travellers. We don't charge for single supplements as we think it's unfair to penalise single travellers.
All of our trips are set up for twin or double rooms which works well when we stay in smaller boutique lodging. If you feel strongly about having your own room, please tell us in advance so we can make this arrangement for you without complication.
What is included in the cost of the trip?
We include just about everything so you can focus on trail running in extraordinary places. All transfers, trail running, guiding, accommodation, meals and cultural experiences are included.
The only additional costs you need to cover are for individual souvenirs, snacks, and beverages outside of what we offer. For example, if you fancy a local beer from a cafe partway through the day.
Do I arrange my own international flights?
Yes. We specialise in arranging excellent land-only arrangements with our ground team and do not book international flights. As there is a great variety of value flights departing from all over the world to the range of destinations we work in.
Throughout your booking process, we will discuss our trusted and recommended ways to book international flights through excellent ATOL protected partners who offer great value, ease of service and flight protection.
Let us know your arrival and departure details in advance and we will take care of everything else from the moment your land.
What type of food do we eat on the trip?
Part of the joy of travelling to the destinations we visit is the local cuisine. Fresh eggs, salads, cured meats, fish, olives, curries, and rice dishes…the list is endless. We want you to experience the local culture at it's best, which certainly involves diving into the huge diversity of delicious dishes we will find everywhere we visit.
In Nepal, we will eat tasty Dhal Bhat curries served with poppadoms, local vegetables, and steamed dumplings. In the Mediterranean fresh, vibrant salads will be delivered for lunch while in the evening we eat moussakas, paellas and other wonders which are complimented for great wines and beers.
What do I need to pack?
Certainly your trail running shoes!
As each of our trips climates and terrains vary we will send out a trip specific adventure pack which will cover the types of kit and clothing required. We send this in advance so that there is time for you to purchase anything you do not already own.
What about dietary requirements?
No problem, we can take care of anything and everything. All destinations we deal with are used to catering with a variety of dietary requirements. Please inform us in advance and we will ensure this is taken care of for you.
What's the payment schedule for your trips?
A deposit payment of £250 confirms your spot on the trip. Then there is nothing else to pay until your final balance is due 12 weeks before departure. Terms and conditions apply to payments and we will make you aware of these when signing up to one of our adventures.
In some circumstances we may need to a larger deposit or an interim deposit, but not without telling you first. Our trip details will be clearly explained before signing up.
GROUP SIZE: MAX. 12 - ALL ABILITIES

PRICE: £1295pp BASED ON TWIN/DOUBLE SHARE.

SINGLE SUPPLEMENT AVAILABLE.

DEPOSIT: £250 PER PERSON

TRAIL RUNNING: APPROX. 10-20KM PER DAY

TRIP GRADE: Challenging. We cater for a full range of running abilities on all of our trips, however there is an assumption that participants on this trip have a good base level of fitness and have the ability to run up to distances of 20km+.

The terrain is undulating and includes some steep up hill sections which we walk, as well as some steeper down hill sections at times. Underfoot conditions consist of hard-packed trails which can be rough and stony underfoot.
Reviews
Done this event?
First-hand event reviews from people who have been there, done that and got the breathable T-shirt, really help everyone choose their next event.
Add a review